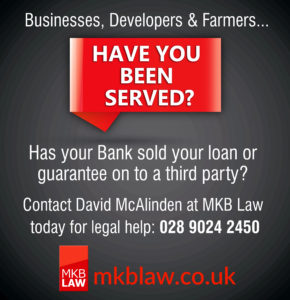 We are seeing an increasing number of statutory demands being served on a range of business owners throughout Northern Ireland.
Many of these individuals signed a personal guarantee with their bank or lender prior to 2008 to secure finance for their businesses.
The financial crisis that hit in 2008 had negative repercussions for businesses in both Northern and Southern Ireland – repercussions that are still being felt today.
Many banks and lenders have now sold the loans and guarantees given to these individuals onto a third party institution.
These third parties unfortunately appear to take a more aggressive approach in order to recoup debt, with vast numbers of statutory demands being served and high interest rates being added to the initial debt sum.
Those affected cover a range of sectors, notably property developers and farmers.
Example Scenario
A property developer requires finance from his bank for the purchase of lands and properties to run his business. The bank grants the developer a loan – he must also sign a personal guarantee to secure this finance.
The 2008 property market crash jeopardises this arrangement – the bank calls in the guarantee and the arrangement ultimately breaks down.
Fast forward a number of years and the bank has now sold the loan including guarantees onto a third party (known as a Global Deed of Transfer). The developer has now received a solicitor's letter acting on behalf of the third party to request payment.
A statutory demand is then served on the property developer to recover the amount due, with potential court proceedings on the horizon.
How MKB Law can help
If you find yourself in a situation similar to the scenario described above, you should seek legal assistance at your earliest convenience.
In the majority of instances, the individual will seek to demonstrate that the debt is disputed on substantial grounds and request that the statutory demand is set aside.
MKB Law are currently assisting a number of individuals in relation to this matter. Our Debt and Commercial Litigation team, headed by Director David McAlinden, will provide specialist legal advice and assistance.
For more information, or to arrange a consultation with Mr McAlinden, please call 028 9024 2450.