Corporate Insolvency & Governance Bill – NI Update
Published 31 July 2020. By David McAlinden
The Corporate Insolvency & Governance Bill recently came into effect in Northern Ireland. The Bill makes permanent and temporary changes to Insolvency and Company law in Northern Ireland to help companies manage the financial and practical difficulties of Covid-19.
Whilst there was a lot of commentary that the measures were aimed at addressing the relationship between landlords and tenants, the Act simply refers to the use of statutory demands and winding up petitions more generally.
In that regard the legislation appears to impose restrictions only in respect of Corporate insolvency – hence it seems that creditors are free to continue with statutory demands and bankruptcy petitions against individuals.
Nor does the legislation seem to provide for a ban on the service of statutory demands in company matters – simply that you cannot file a winding up petition based on a demand served between 1 March and 30 September 2020. However, the legislation appears to permit creditors to so proceed if it can be shown that it had reasonable grounds for believing:
(a)  coronavirus has not had a financial effect on the company, or
(b)  the facts by reference to which the relevant ground applies would have arisen even if coronavirus had not had a financial effect on the company.
On balance therefore it appears that creditors can proceed with service of demands (and petitions) against companies relying on the creditor's reasonable belief on either of the above grounds. For example, if the invoice payment terms predated 1st March a creditor could justifiably argue it that the reason for non-payment was not due to coronavirus. It is also worth noting that in certain circumstances winding up petitions can be issued without the statutory demands in any event based upon the decision in the case of Taylor's Industrial Flooring Ltd v M and H Plant Hire (Manchester) Ltd: CA 1990. In that case Dillon LJ said: 'if a debt is due and an invoice is sent and the debt is not disputed, then the failure of the debtor company to pay the debt is itself evidence of inability to pay'.
The above however, must be considered in line with the High Court's Directions of 19th March 2020 in relation to cases listed before the Bankruptcy and Companies Master in Northern Ireland. Further to the direction of the Lord Chief Justice of 17th March 2020, the Bankruptcy and Companies Master directed that all matters currently in the system which are not of critical importance be adjourned generally. Furthermore, the Master also directed that no new business should be issued until further notice unless it is urgent, in which case the reasons for the urgency must be clearly set out in writing for consideration.
In summary therefore whilst it appears that statutory demands can be issued there is a risk companies served with them may complain or challenge them. However, it is evident that the statutory demand remains an effective tool of getting the debtor's attention and as a method of recovering sums due. It is important however to ensure that each case is reviewed individually on its own merits and accordingly the best advice remains that creditors should take expert legal advice to minimise the risks of a costly successful challenge by the debtor.
Should you require any further information on the above, please contact David McAlinden at MKB Law.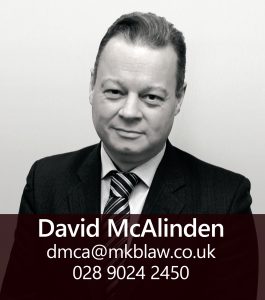 This article is for general guidance only and should not be regarded as a substitute for professional legal advice.