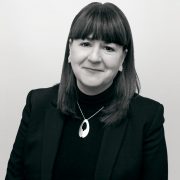 I am one of the Directors of MKB Law, with specific responsibility for overseeing the Family and Matrimonial department.
Having graduated in Law from Queen's University in June 1985, I have been practicing exclusively in the area of Family Law for over 20 years in Belfast. At MKB Law my case load covers a broad spectrum, from divorce settlements to Children Order Proceedings both private and public.
Family & Matrimonial Law:
I am passionate about the well-being of children, and assist my clients with cases relating to child contact, child residence and Special Educational Needs. I am one of a small number of Solicitors representing children on behalf of the Northern Ireland Guardian Ad Litem Agency, and am a member of the Management Committee of the Childrens Law Centre in Belfast.
In matters of matrimony, my clients interests are of paramount importance to me. I ensure that all clients are made aware of their options when going through a divorce, and I strive to offer my full support throughout this difficult process.
I am a qualified advanced Solicitor Advocate which allows me to represent clients in all Courts, and am also a member of the Collaborative Divorce Lawyer Panel. I have also trained as a Mediator with the Institute of Professional Legal Studies.
Outside Interests:

In my spare time I enjoy listening to music (especially Bruce Springsteen), and reading cookery books – one day I hope to actually be able to implement the dishes!
Anne Marie in her own words
How to contact Anne Marie
For more information or to arrange a consultation with a Solicitor, please complete our contact form.
Alternatively you can call us on 028 9024 2450 or email info@mkblaw.co.uk