Experts combine forces to help businesses successfully 'keep it in the family'
Published 13 February 2020
MKB Law, one of Northern Ireland's leading corporate law firms and multi-award-winning accountancy practice, ASM Chartered Accountants, have joined expert forces to offer an expert event offering advice on succession planning for local businesses.
The event will take place in The Merchant Hotel on Wednesday 11th March at 8am, and will cover both the legal and financial considerations of future business planning, provide impartial advice on the smooth transition of business management between generations of family members or future leaders.
Gordon McElroy, Director at MKB Law, said: "We have identified a real need in our client pool to provide sound advice and information about how to plan for the future – whether that be keeping in the family or selling to shareholders, associates or investors.
"According to the National Association of Corporate Directors, fewer than one in four private company boards say they have a formal succession plan in place. This is understandable as dealing with current business demands often means the complex issue of organisational succession is pushed down the list of priorities.
"But to not have a proper future plan in place will cause disruption and even conflict, especially when businesses are family-owned or controlled. Naturally, this is when emotions can come into play, and successional planning can seem problematic and overwhelming."
This event will offer expert advice and an understanding of the complex multidisciplinary approach required for successional planning, companies, large and small, can benefit both now and especially in the future.
Failure to have an effective strategy in place can be costly. Statistics reveal, in the case of family-owned businesses, only 30 per cent survive into the second generation, 12 per cent survive into the third, and only about 3 per cent operate into the fourth generation and beyond.
And, with so many family-owned businesses in Northern Ireland, successional planning is crucial for the stability of the local economy in the coming decades.
"There are many benefits for companies and owners who plan properly and strategically for an orderly transition of management and ownership," Caroline Keenan, Tax Director, ASM Chartered Accountants continued.
"It's an opportunity to consider how to protect wealth and growth, plan for realistic retirement goals, and keep harmony in the organization. Current benefits include confidence for employees, customers and shareholders and clarity about future direction.
"During the first of what we hope will be a number of events and seminars, in combination with MKB Law, we will be offering advice to businesses across a range of topics which are the foundations for successional planning. These include how to choose successors, business protection, retirement planning, compensation packages, business protection, understanding value and gift and tax planning.
"This advice is simple – a plan for succession is a plan for success and the combined expertise of MKB Law and ASM Chartered Accountants will help make that process much easier," Caroline concluded.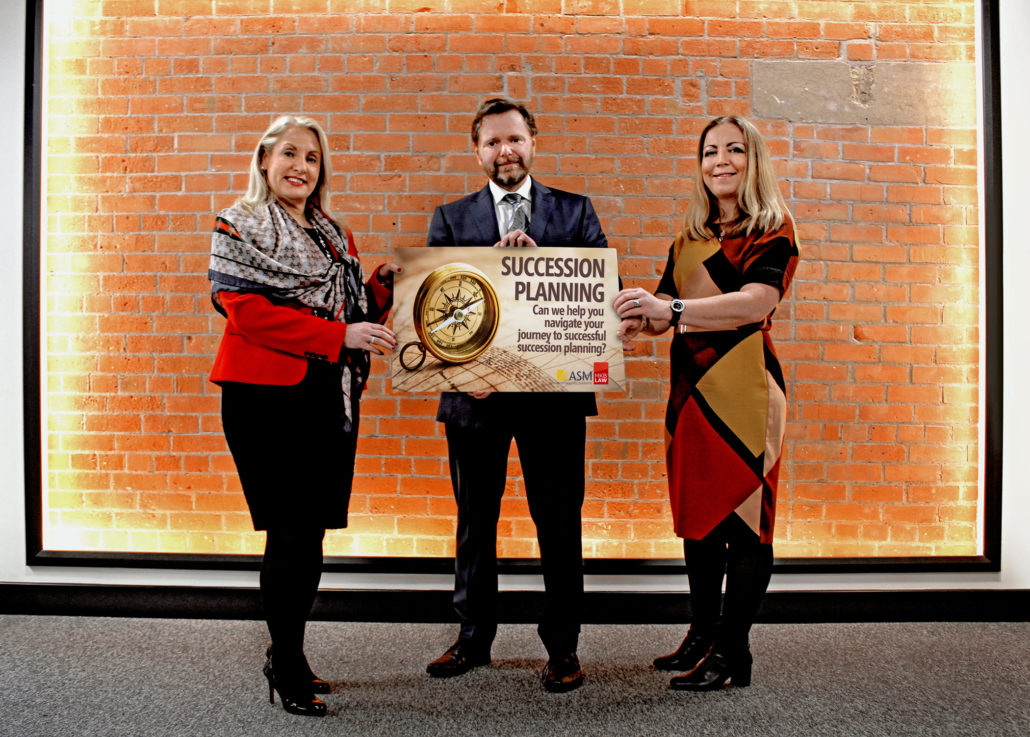 L-R: Caroline Keenan (Tax Director, ASM Chartered Accountants), Gordon McElroy (Director, MKB Law) and Deborah Archer (Associate Director, MKB Law).
The event takes place on Wednesday 11th March at 8am in the Merchant Hotel.
To book your place, please email Kym Horner: kh@mkblaw.co.uk