MKB Law Appoints Three Trainee Solicitors for 2023
18 September 2023
2 minutes
MKB Law continues its investment in the recruitment of new legal talent with the appointment of three trainee solicitors – Rachel McBrinn, Michael Murphy and Caitlin Mulholland.
Rachel McBrinn, who graduated with a law degree from Queens in 2022, joined the Employment Law team at MKB Law in October 2022 as a Paralegal. Rachel has worked alongside Associate Director Andrew Lightburn, managing a number of employment disputes and providing advice in respect of the Industrial Tribunal and Fair Employment Tribunal process. Rachel also assists in a range of Family Law matters.
New to the firm are Michael Murphy and Caitlin Mulholland.
Michael moves to MKB Law from a busy high-street law practice where he had been working as a Paralegal since graduating with a Law degree in 2021. He joins MKB Law's Dispute Resolution and Litigation department under the guidance of Director David McAlinden.
Caitlin graduated in 2021 having studied Law with Spanish, and has previous experience working as a Legal Professional in the Belfast office of a global law firm. She joins MKB Law's Private Client and Conveyancing team under the guidance of Director Maria Conway.
The trainees will undertake their practical in-office training until the end of 2023, before commencing their studies at the Institute of Professional Legal Studies (IPLS) in January 2024. All three will aim to qualify as solicitors in the Autumn of 2025.
Gordon McElroy, Managing Director at MKB Law, comments: "We are pleased to announce our trainees for 2023. Rachel is a valued member of our Employment team, and Michael and Caitlin join us after attending our trainee open evening and deciding that we were the right firm for them. Each of them brings a unique set of skills and perspectives that will enhance our firm's capabilities.
At MKB Law, we take pride in nurturing legal talent and providing opportunities for growth and professional development. We are committed to providing them with the mentorship and opportunities they need to develop into outstanding solicitors."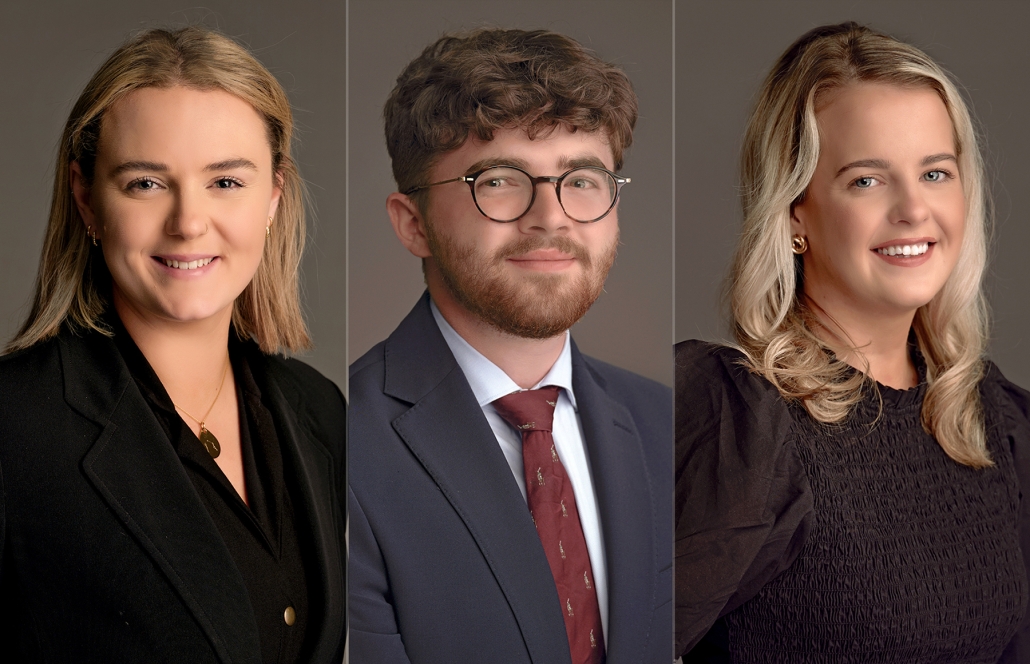 Rachel McBrinn, Michael Murphy and Caitlin Mulholland
This article is for general guidance only and should not be regarded as a substitute for professional legal advice.