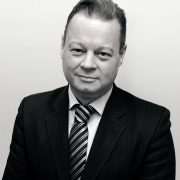 I qualified from QUB in 1995 with an Honours Degree in Law and Masters Degree in Philosophy. During my career in law, I have specialised in the areas of insolvency, commercial litigation, debt recovery and Chancery work. I am also qualified to practise as a solicitor in both Northern Ireland and the Republic of Ireland.
McAlinden Solicitors was established in 2003, located on premises on the Falls Road in Belfast. The practice offered a range of legal services before refocusing our service offering on commercial debt recovery, insolvency and litigation.
In October 2016, myself along with my three person legal, team merged with MKB Law. The merge provided us with the ideal platform to extend our legal services to a vast range of clients and sectors. Alongside Gordon, Anne Marie and Maria, I am a Director at the practice.
In addition, I lecture on the debt recovery and insolvency process, and am an author of material prepared for Credit Managers on this subject. I also tutor at the Institute of Professional Legal Studies at QUB and sit on the Remuneration Panel of the Law Society of Northern Ireland.
For more information or to arrange a consultation with a Solicitor, please complete our contact form.
Alternatively you can call us on 028 9024 2450 or email info@mkblaw.co.uk