Commercial Leases For Two New Tenants Opening Premises in City Centre
Associate Director Lynsey Henderson was pleased to have recently been instructed on behalf of a landlord – one of her long-standing clients with a large property portfolio – in relation to new commercial leases for two tenants opening premises in Belfast City Centre.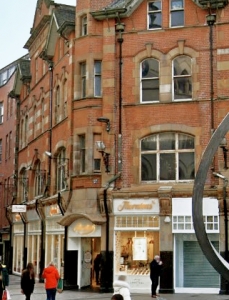 Jeweller and watchmakers Ernest Jones will be relocating to our client's premises at 11 Arthur Square, part of the iconic red-brick Mayfair building built in 1906.
Womenswear clothing brand Mint Velvet, currently with 46 boutiques across the UK and Ireland, will open their first Belfast standalone store at 16 Arthur Street in the coming months.
Lynsey, who specialises in Corporate Law and Commercial Property, comments: "After a challenging year for retail, the completion of these two long-term lettings in the heart of Belfast City Centre is encouraging to see for both the retail sector and for those clients holding commercial properties in an investment capacity."
Commercial property can be complex; at MKB Law we recognise the intricacy of the process and how important such transactions are to your business – for further information on our services, please visit our Commercial Property section.